I am a HUGE fan of supporting local businesses
so I am going to start an ongoing series
highlighting local business which carry design treasures.
Today I stopped off at the Patriot Antique Center.
615 West King Street
Martinsburg, WV 25401
(304) 263-1134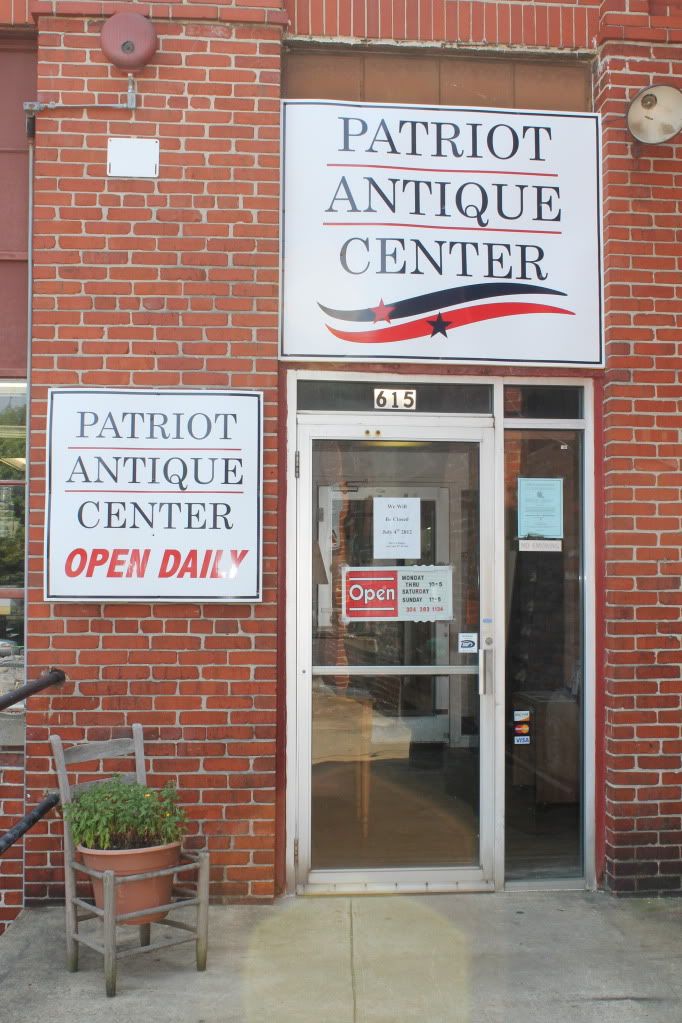 Bob Shores the Proprietor was kind enough to let me snaps some pics.
I adore the treasures I found and would have taken a bunch more photos had my camera not run out of batteries! Note to self: next time charge camera battery before heading out on a photo shoot . . .
Gorgeous miniature wooden greenhouse to keep & highlight your indoor plants
PLUS give them a warm, moist environment to thrive!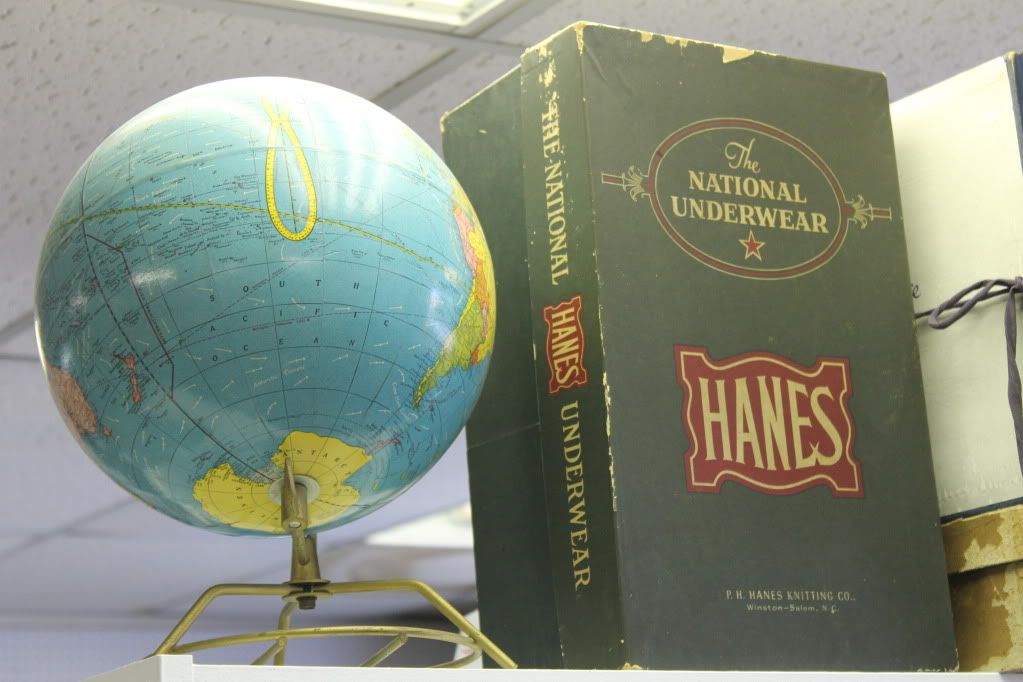 Every home needs a globe! and an old underwear box;)
I love the splash of color the globe brings into a space
and the box is an unexpectly funny way to store clutter.
I am kukoo for bentwood rockers and I adore this faded paint.
I might have to go back and get this for myself!!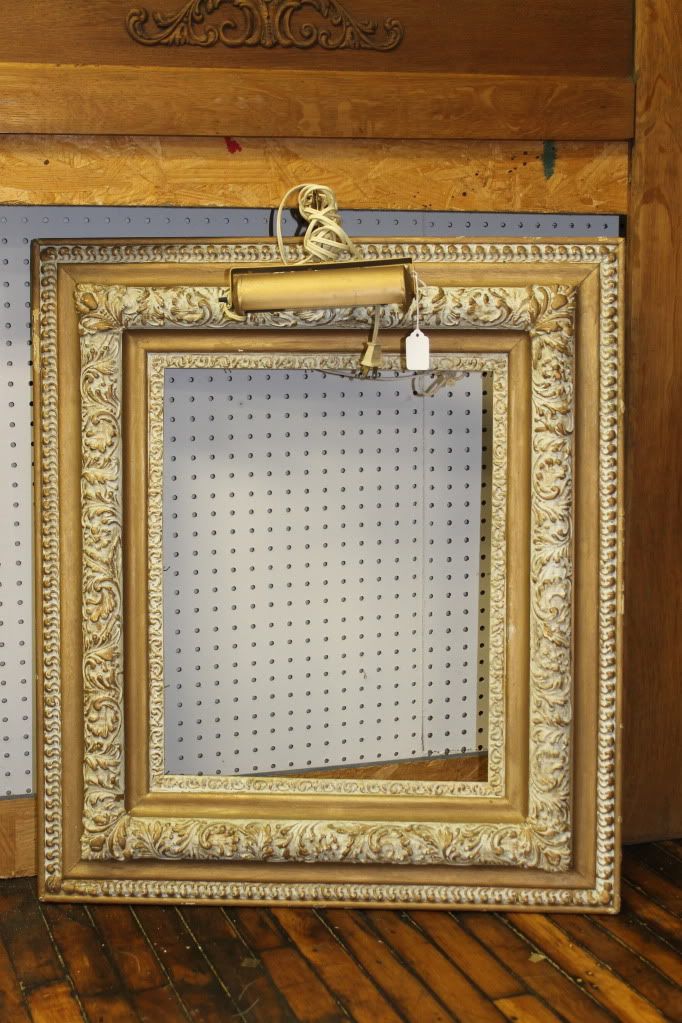 Framing can be sooo expensive so I love recycling old frames,
especially when they are this big and beautiful.
PLUS this one comes with a lamp to highlight the artwork.
If you don't like the color of the frame, spraypaint it.
I see a gorgeous printed fabric stretched inside this frame and being a pop of color in your space:)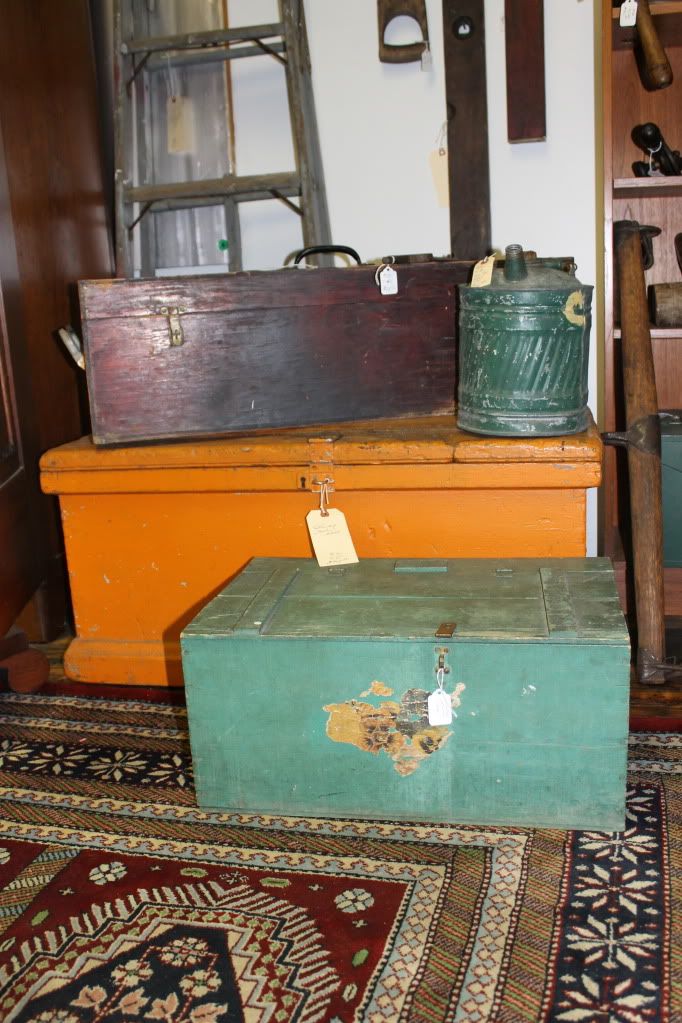 These trunks are wonderful for extra seating AND storage.
(By the way, I love the colors they have been painted.)
For about $100 bucks or less we can whip up a custom cushion for you to turn these trunks into a charming window seat or ottoman.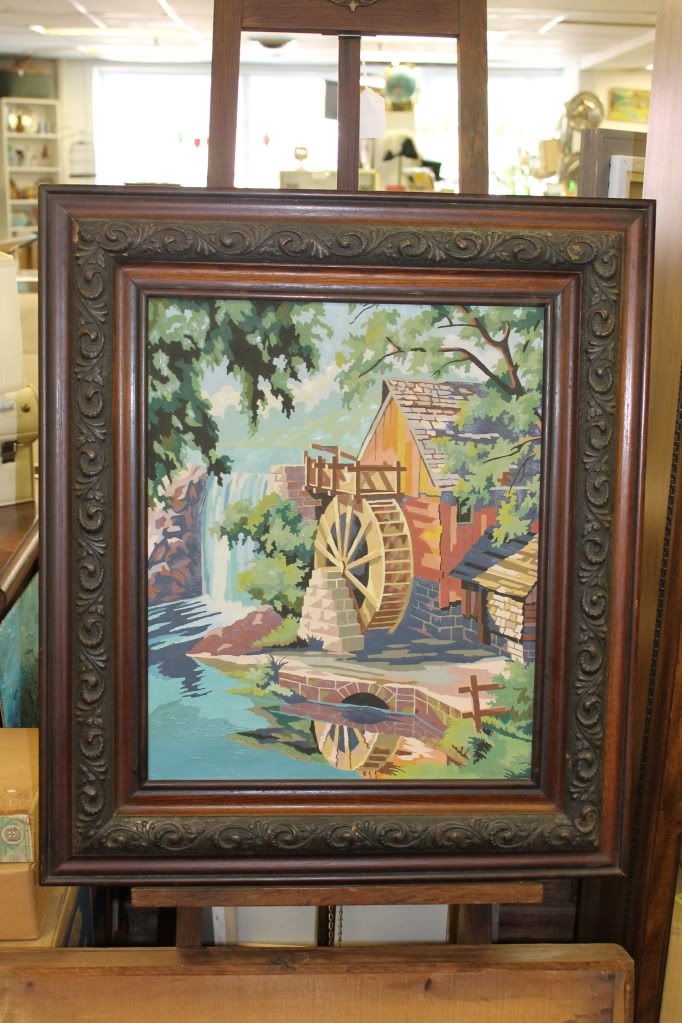 Great paint by numbers landscape that coincidentally matches the trunks shown above.
Pick up all of these and group together in an unused corner of your home.
I bet it will quickly become your new favorite reading corner:)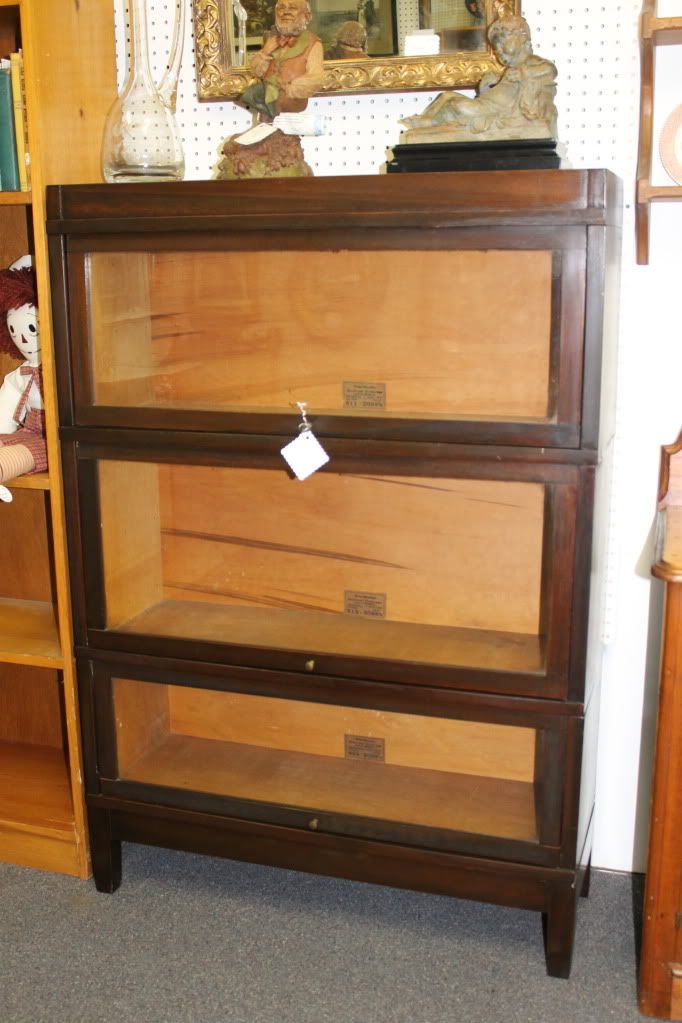 This glass fronted Lawyer's Bookcase is a great find.
Excellent condition and affordable price.
My husband would love this one:)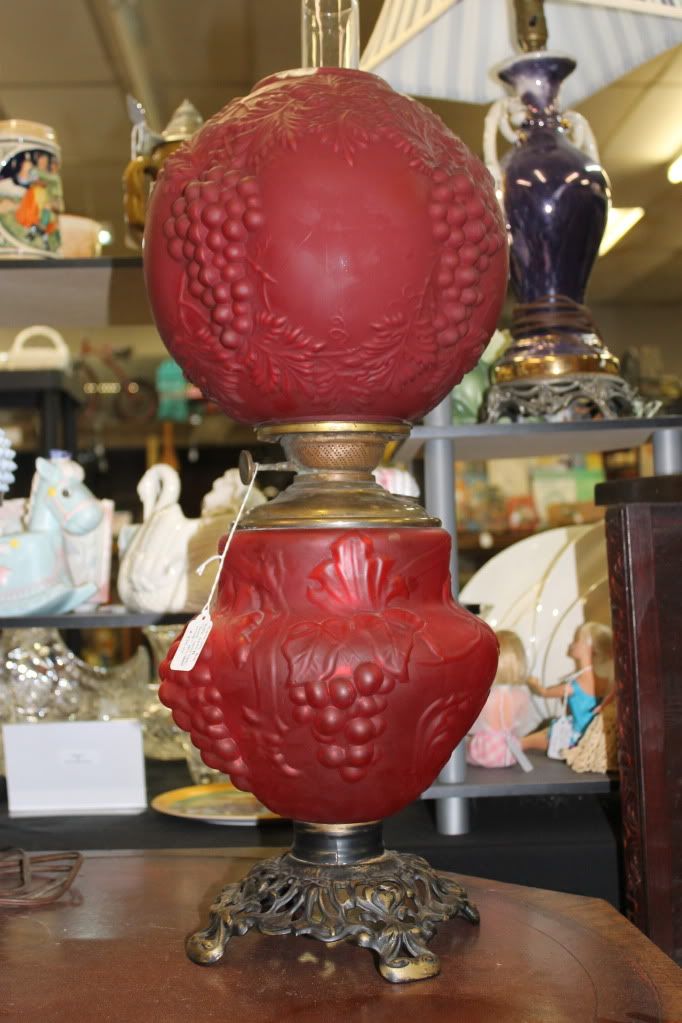 Maybe add this brilliant red Hurricane Lamp to the top of the bookcase.
I love the pop of color this will add to a room as well as the celebration of a bygone era.
Speaking of red, this enamal hutch is awesome!!
Wonderful condition and I love the detailing on the windowed doors.
This piece is intended for kitchen use but I would love to see it used as a desk.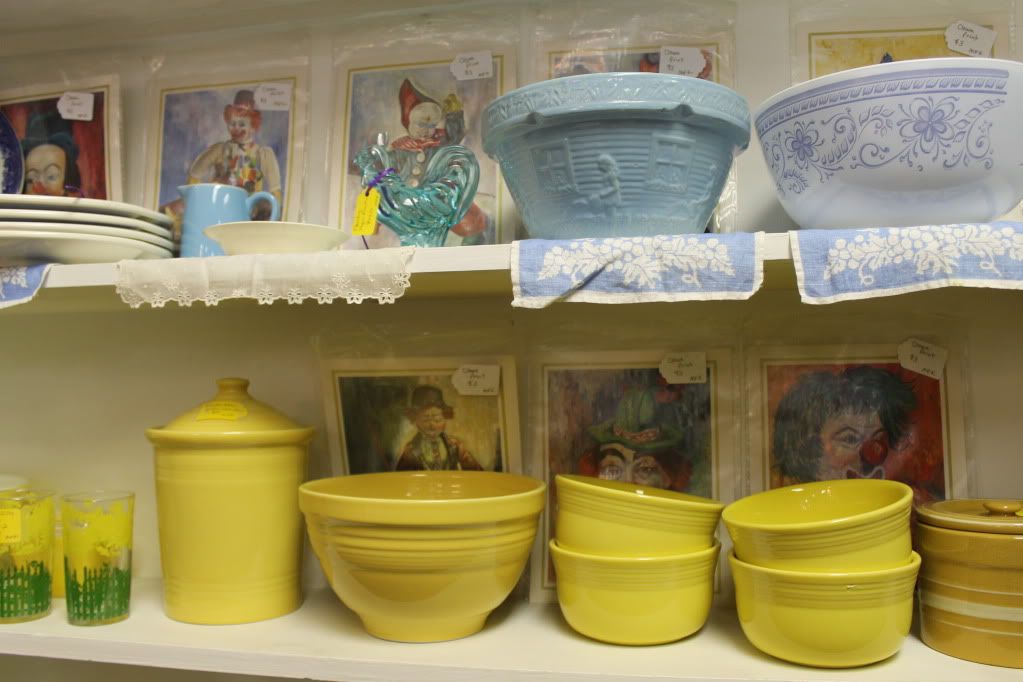 If kitchens are your favorite room in the house,
you must check out the great collection of glasses & dinnerware here.
These Fiesta ware bowls are so bright and beautiful they make you smile:)
This is a fun collection of decorative items.
Keep the tiny drawered cabinet by your front door to store keys, remotes, change, etc.
The US Navy blanket is just cool! and probably really warm:)
The birdcage is very whimsical and comes with a stand which is a rarity, convenient and beautiful.
Store a brilliant plant inside or maybe you could actually get a bird!!
The rocker with all it's cury-que details would look lovely on a front porch painted a vibrant color.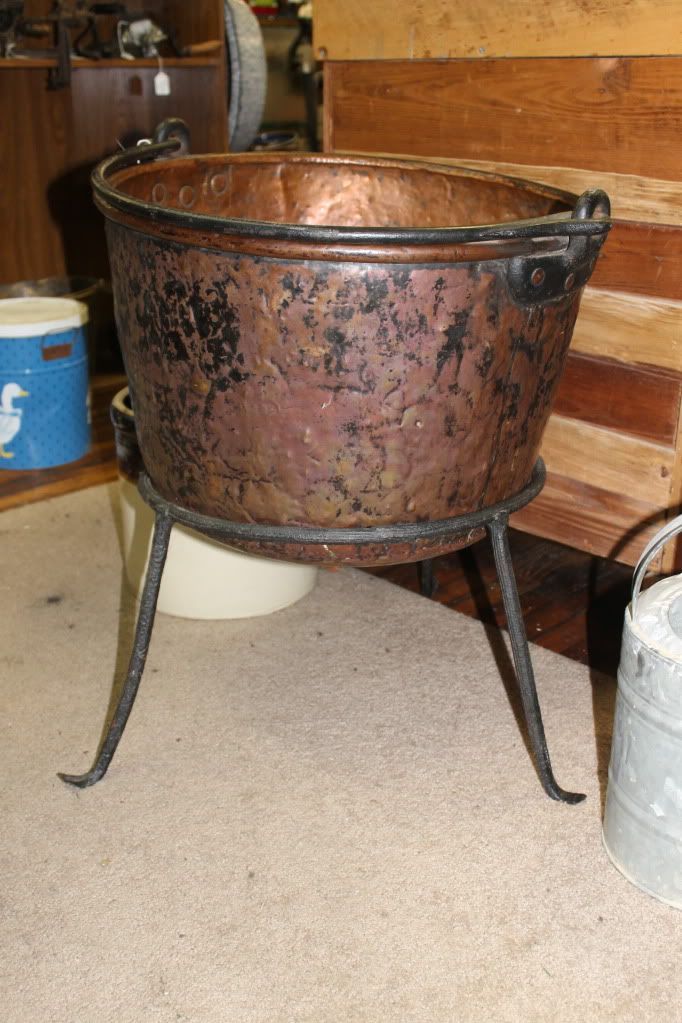 I saved the most interesting and unique item for last.
Who doesn't need a copper cauldron?!
I kid:) This is a stunning way to display plants inside or out
OR fill it with ice and beverages at your next social function.
Patriot Antique Center has a ton of fabulous finds waiting to be discovered.
The inventory tends to turn over pretty frequently,
so if you see something here that you like,
you better run and get it soon!
I hope you enjoyed the treasures I've shared with you today
and are encouraged to shop locally:)